Step 1: Create new offer
Click on the Label: Create New on the Menu bar.
Step 2: Choose your Objective
Choose Basic Upsell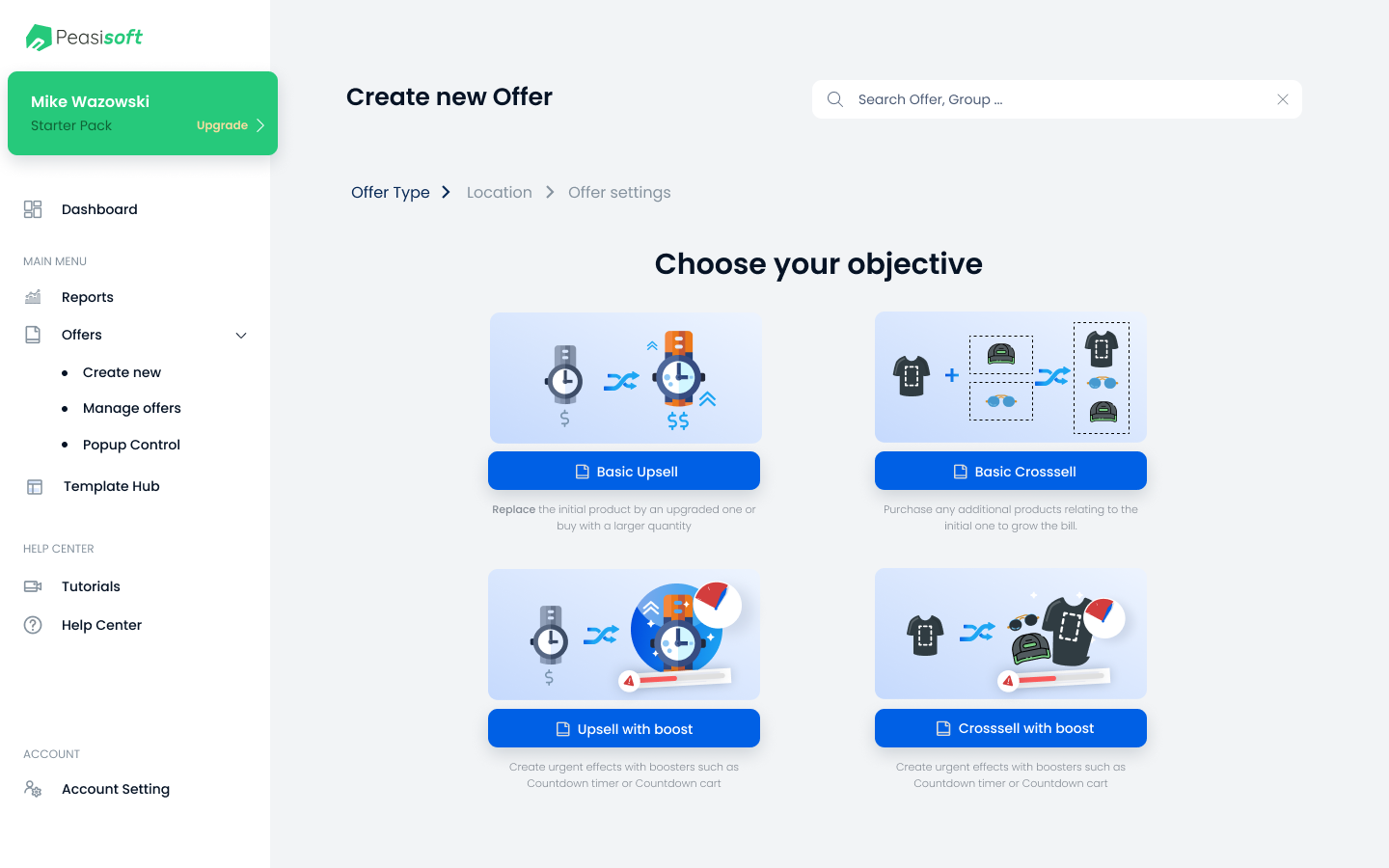 Step 3: Choose your Trigger location
Choose where and when the popups appear on your customer buying journey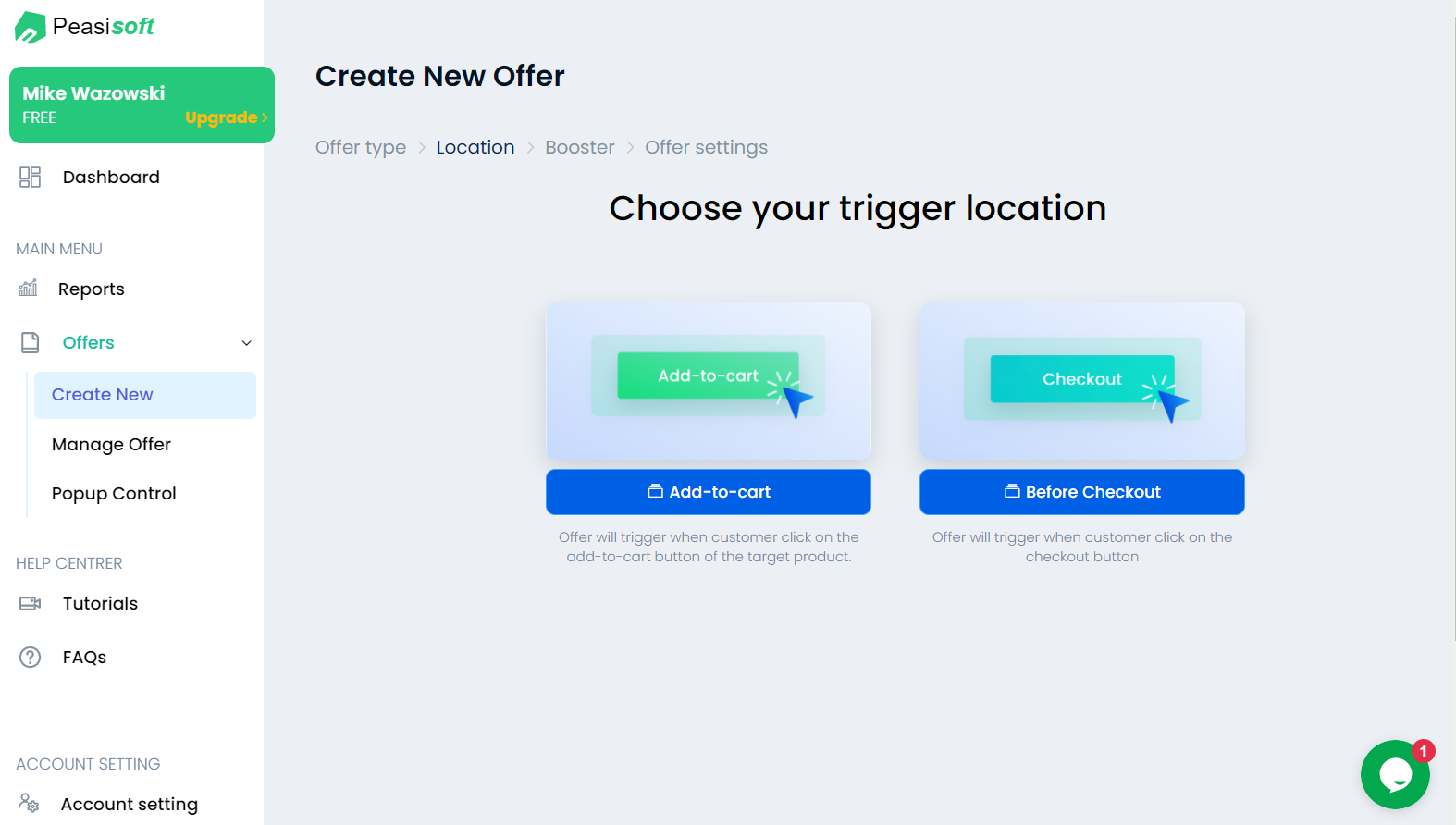 * Trigger Add-to-cart: Pop-ups will appear when customers click on Add-to-cart button
* Trigger Before Checkout: Pop-ups will appear when customers click on Checkout button
* Trigger After Checkout (coming soon): Pop-ups will appear when customers click on Confirm-Payment button
Step 4: Set up a sale offer
Setup promotion, date range, message,... for your Cross-sell Offer:
- Basic info
* Offer's name
Name the offer in your way to distinguish other offers.
*Note: Offer's name will not be shown to your store's customers.
* Group name (optional)
At group name, you can create a new group for your offer or move your offer to an existed group
*Note: a Group can have many offers for the purpose of managing and classifying more efficiently.
- Select product
Upsell case example:
Trigger Product is A size S price 10$
Offer Product is A+ size XL price 50$
When customers buy A, they will receive a popup Upsell offer that they should buy A+ instead of A, the product A+ is on sale.
Then they decide to take the offer, the product A+ will replace the product A in their cart.
* Trigger Product
When customers choose to buy these products, it will activate your Offer. In the detailed setting, the left-side is where you can choose the products. On the right is a list of products you have selected. You can choose as many Trigger products as you like.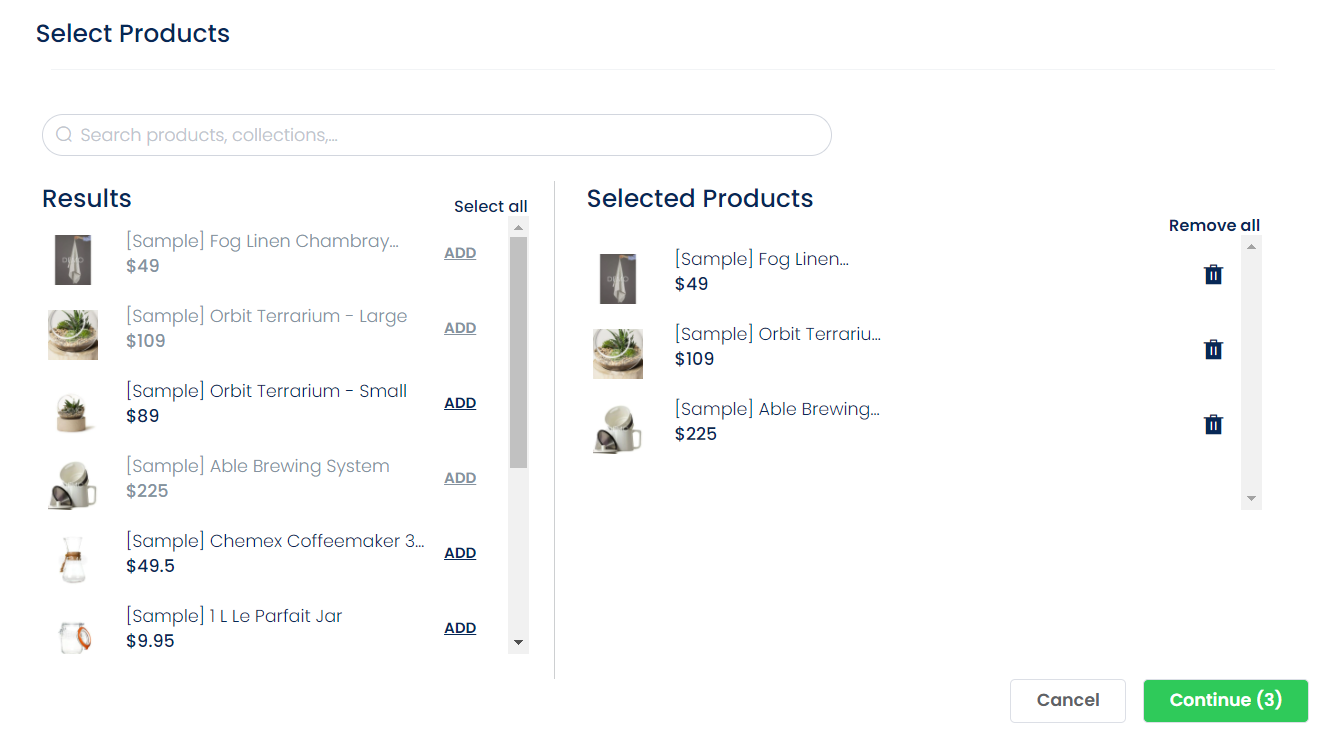 * Offer Product
These are the products will be in the Upsell Offer. You can select more than one Offer products if you like.
In the detailed setting, after choosing the product(s) on the Left-side, you can customize the variations, which was set up on your store, for your products in the Right-side.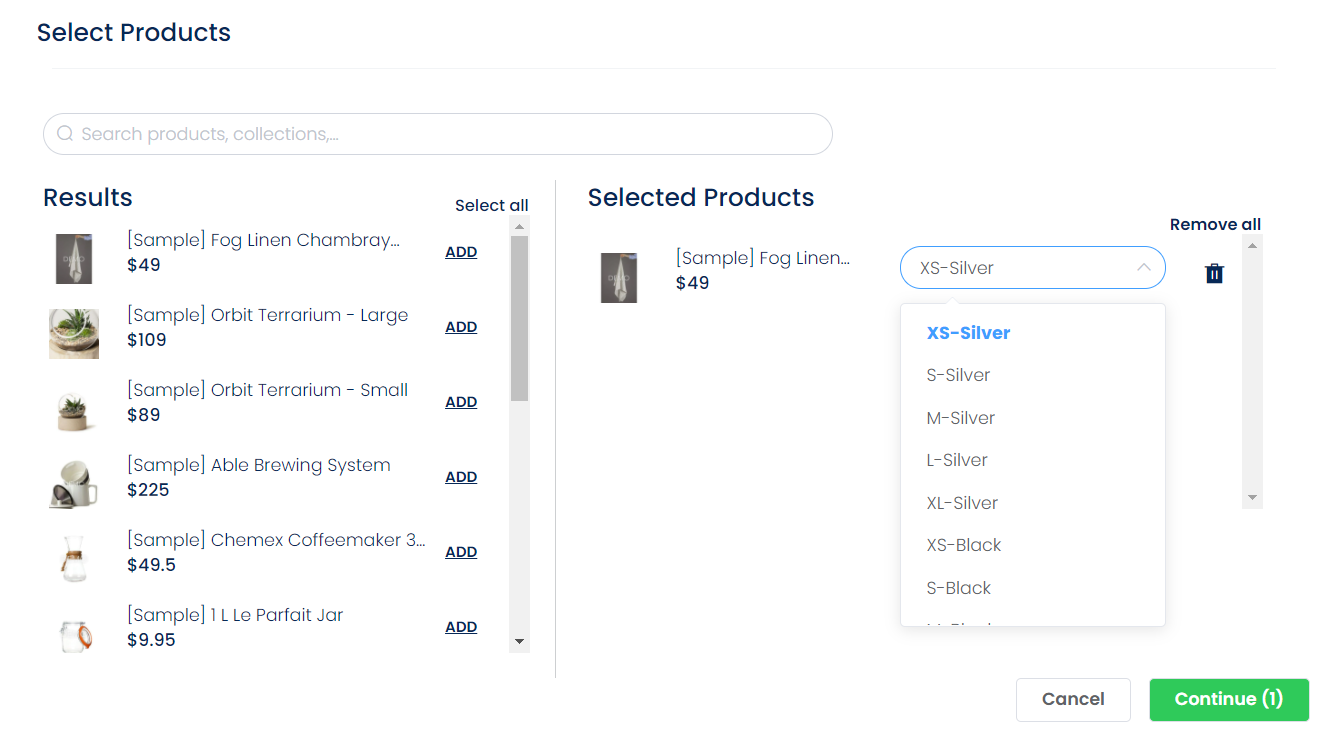 - Discount setting
This is where you select the appropriate Discount method for the Upsell Offer that you have created to attract customers.
With the Discount feature, you will have 2 ways to Set a discount:
Percentage: Discount by % of original product price
Fixed amount: Discount by a certain amount of $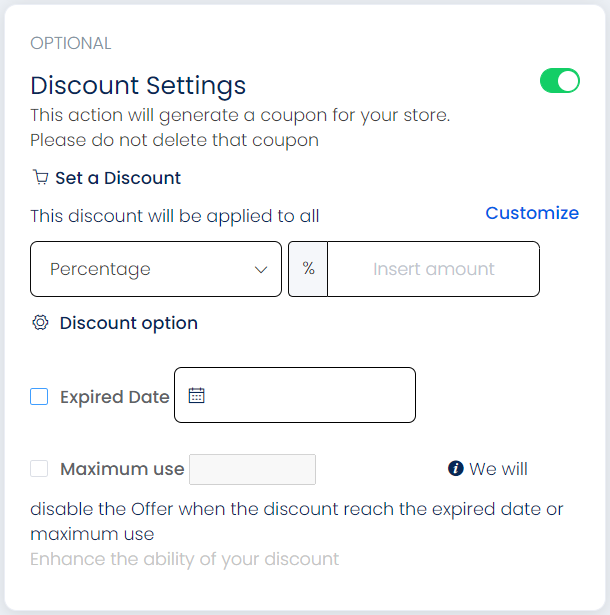 With Discount option, you can set up:
Expired Date: The date when your offer will be inactive
Maximum use: The maximum that popup is viewed
- Display setting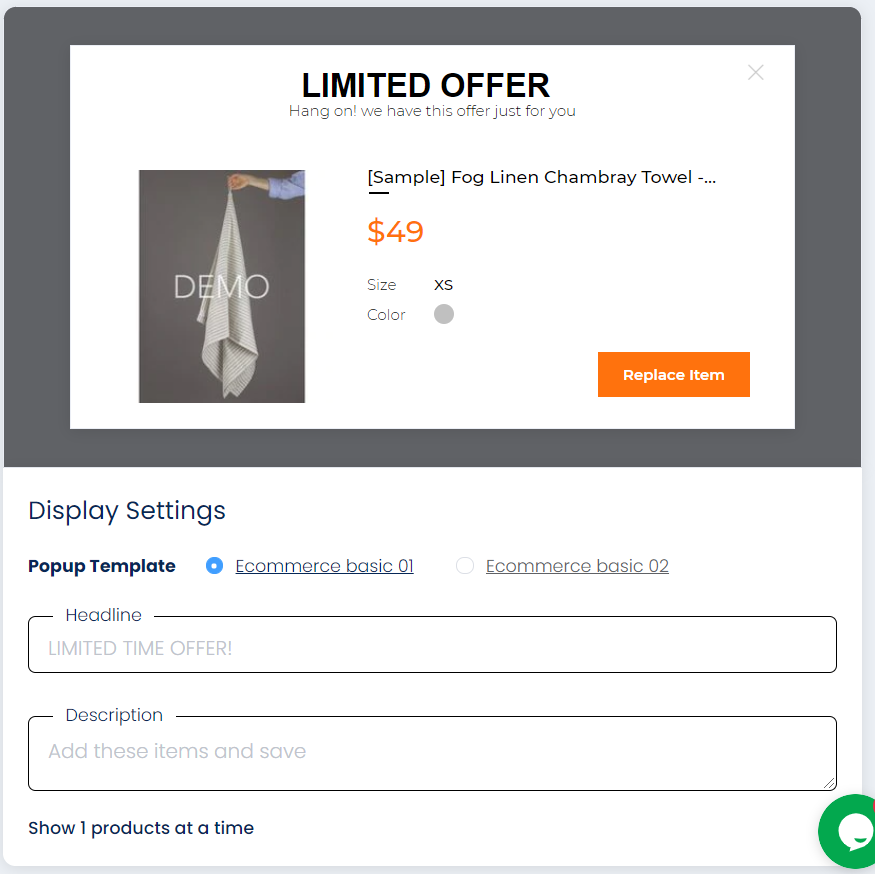 * Headline
A headline helps you to make your customers pay attention at your unique Offers. In the example above, the default title is "Limited time offer!"
* Description
The description helps you to persuade customers or describe in more detail the offer that you make. In the example above, the default description is "Add these Items and Saves".
* Popup Template
To attract more attention to the popup from your customers, you can change the template for your popup.
* Show ... product at a time
You can present up to 3 Offer products in your Pop-up. Let's continuously do A/B testing to find the most suitable option.
Step 5: Test popup
After completing the offer settings, you should test your offer by experience it yourself on your Store, this will help you have a better understanding to optimize your customer experience. Therefore, grow-hack your Conversion rate.