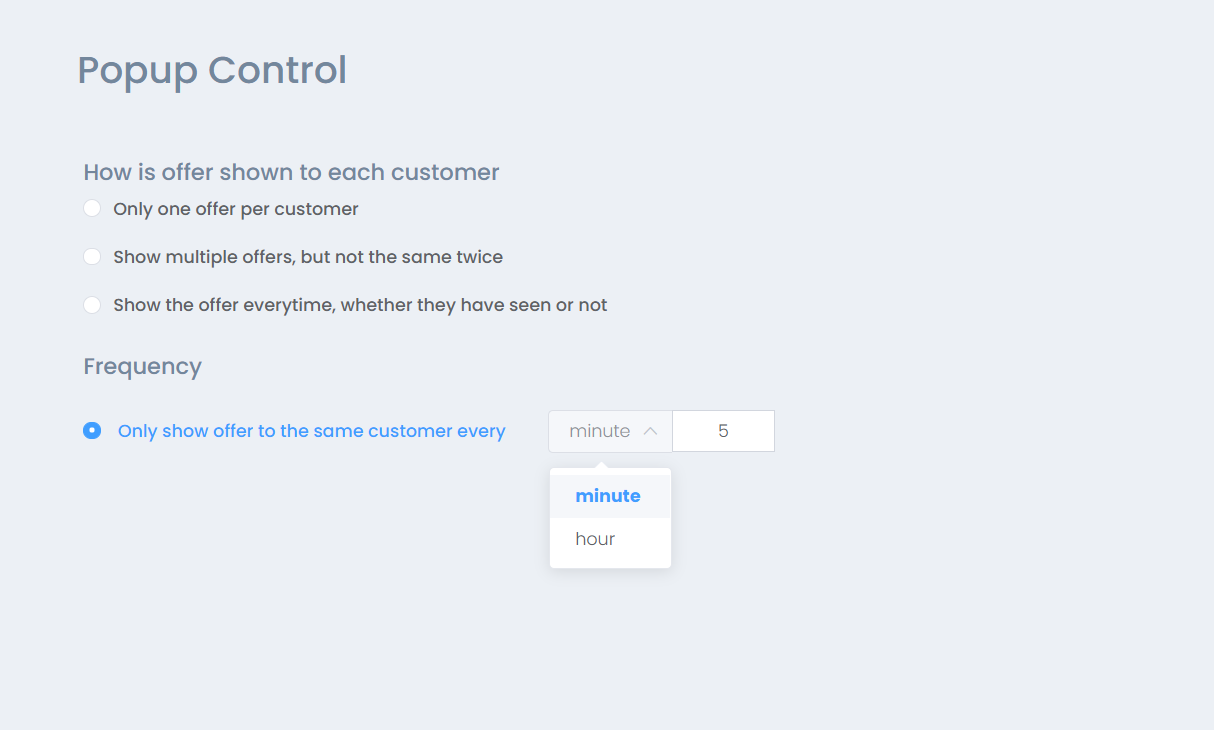 With Peasi's Smart Popup control system, you can fully control the display of Popups, this will help you optimize your resources (effective popups) and give a better customer experience.
Note: These settings will apply to all of your offers that are active.
Define "Customer"
When customers arrive at your store, we will track them by their ID. If the IDs are new, our system will save them as new customers. If not, we will review their offer view history and apply Popup control setting rule for display popup reasonable.
How is the offer shown to each customer?
You can edit the number of impressions per customer who visits your store with 3 different modes
* Only one offer per customer: It means if you have a lot of offers, each of your customers can trigger just one offer.
* Show multiple offers but not the same twice: It means if you have a lot of offers, your customers can trigger all of them, but the offer which is triggered will not be activated again.
* Show the offer every time whether the customers have seen it or not: It means your customers can trigger all of your offers with many times.
Specify your goals to have the most suitable setting for your Offers
Frequency
Frequency means the minimum period that customers will see the next pop up since the last popup before.
In the default setting, Frequency is 15 minutes. It means, every at least 15 minutes, a customer can see a popup again.
You can control the frequency of popup occurrences over time. Remember, customers will very upset if you spam them to much.
*) Note: Frequency just can be activated if you choose option 1 or 2 above.