I know you are finding a way which can grow your store revenue. These ways you might have tried:
- Find out trending product or niche product that adapt customer need
- Invest more and optimize your marketing campaigns to grow traffic
- Build better customer experience on your store by UI/UX design techniques
But, in this product, I will introduce another approach in many different ways which used by many successful salesmen, E-commerce platforms like Amazon, eBay,... even in a traditional retail store like Walmart. It is Upsell & Cross-sell: Increase sales from every visitor to your store or Increase AOV by another name.
So, what is the value we focus on? In our perspective, the key success of this method is Customer Experience: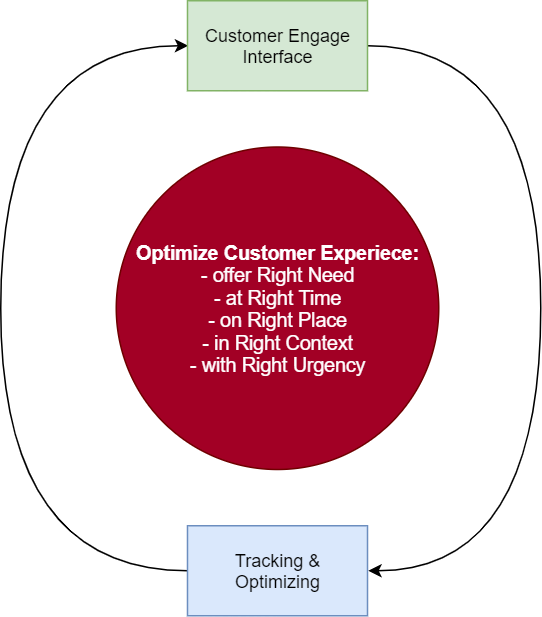 Optimizing Customer Experience Model created by Peasi
As you can see, our Goals are the center circle with 4 criteria you have to achieve in your Upsell offer on your store - Its link with Customer Engage Interface itself:
* Right Need (Upsell/ Cross-sell Offers)
* Right Time (Product Triggers; Limit Pop-ups)
* Right Place (Trigger Location)
* Right Context (Fit Store, Fit Moment, Fit Interest, Fit Event,...)
* Right Urgency (Countdown effect, Limit stock,...)
Those things we provide in our App function too, you can release that easily: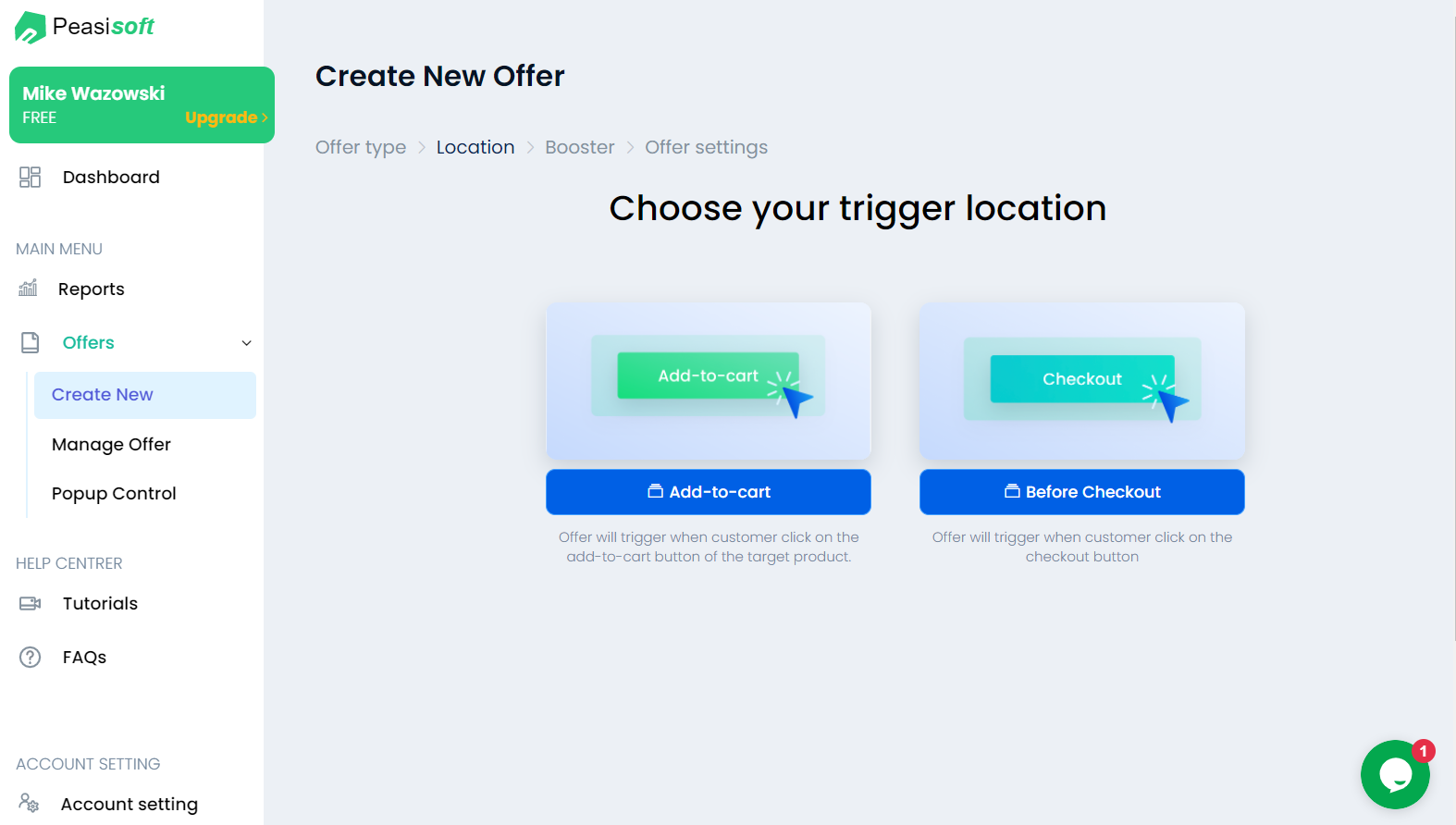 Trigger location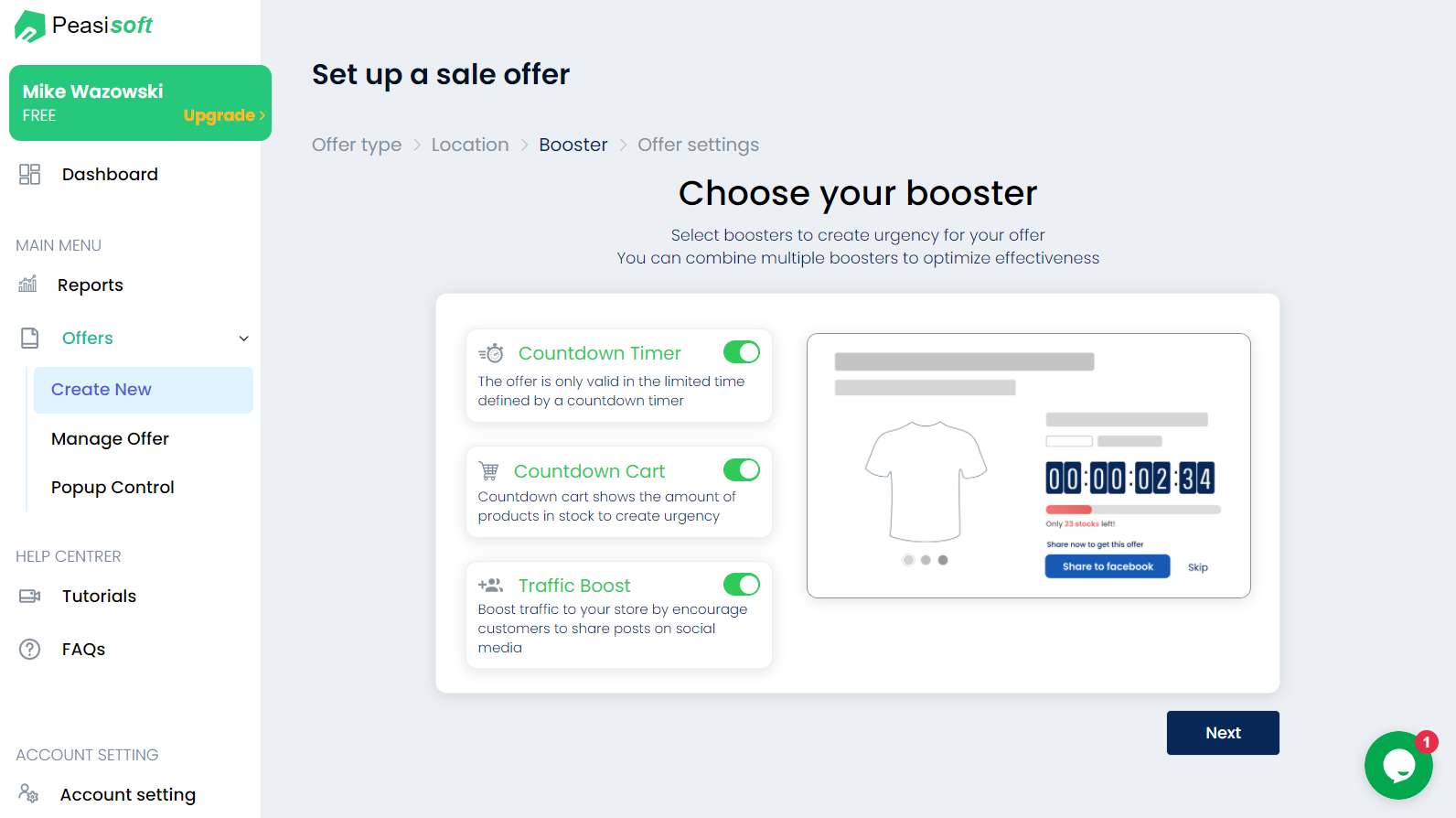 Booster for offers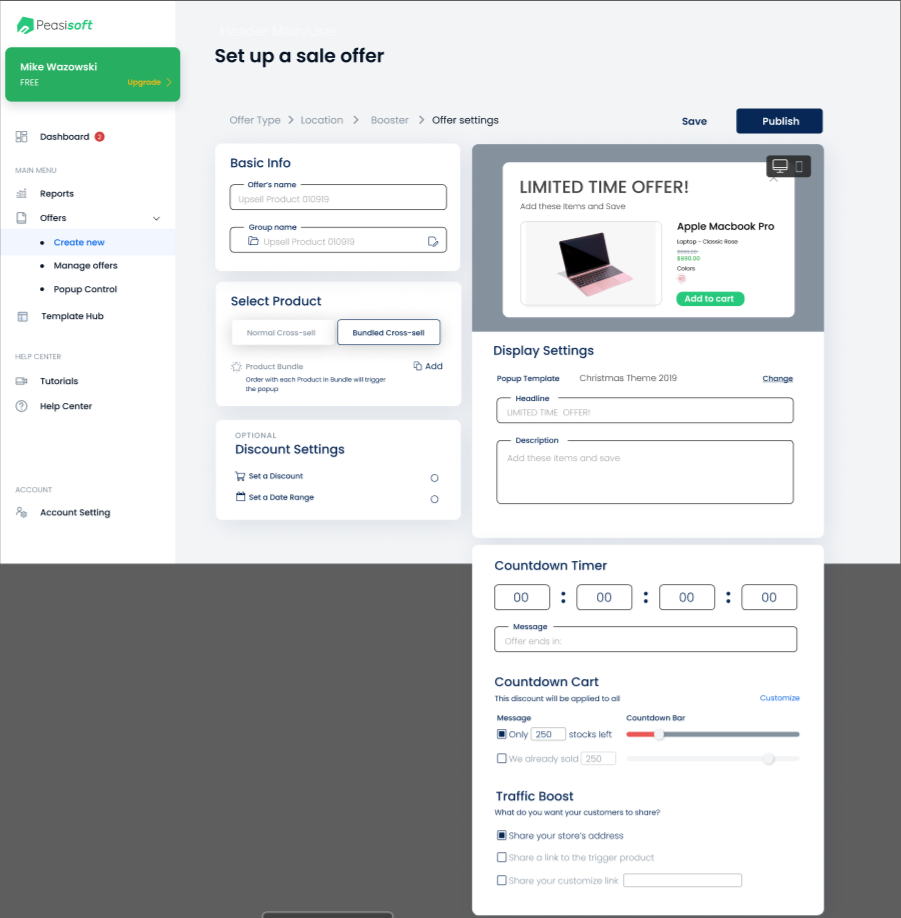 Setting Offer
But the interesting question is, how do I know it works? What the efficient I got? What criteria I have to optimize? How do I know the changing is better or not?
The answer is the rectangle under the model: Tracking & Optimizing with Peasi Native Upsell's Report and Manage Offer. Our approach to upselling/ cross-selling data analysis is analysing from overview to detail: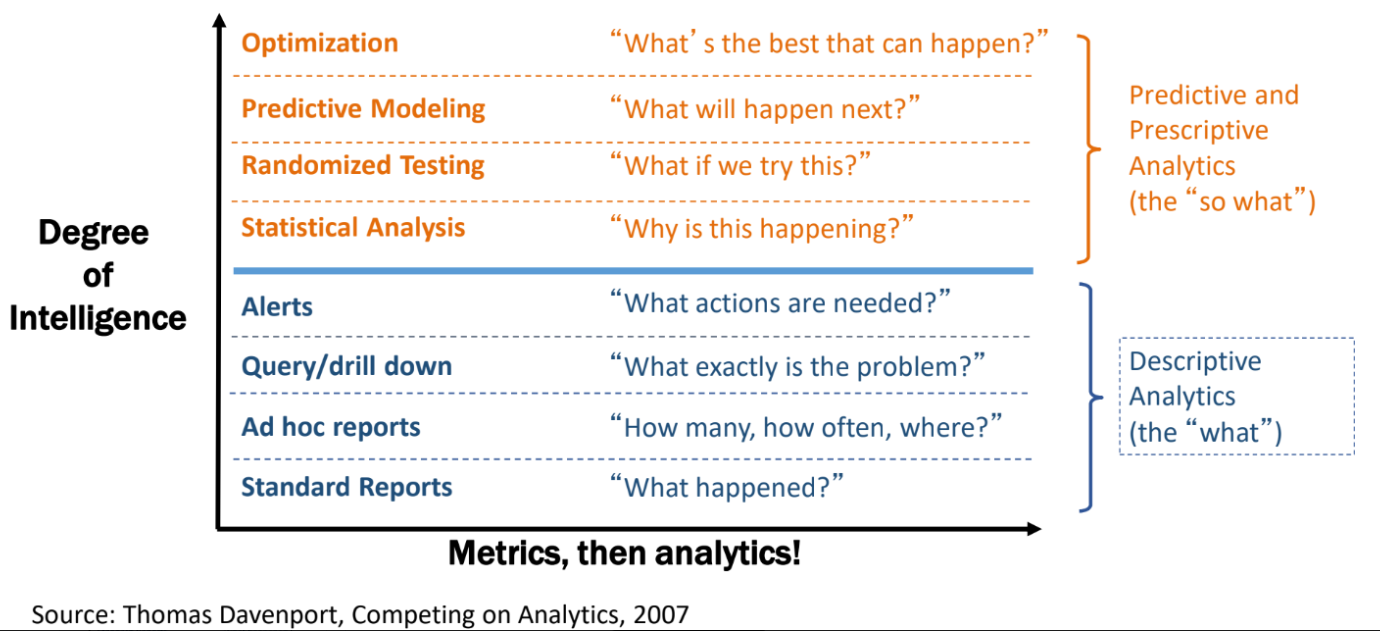 Optimizing Analytic Model
Note: We use this analytic model to form the analytical & optimization thinking, our Report logic based on it too.
Based on our research, many clients often struggle with managing many Offers with many different types. There are so much metrics they want to know and optimize, but they don't know how to organize them efficiency to analyze. So, we decide to construct our report from overall to specific, based on low grades of Optimizing Analytic Model.
At first, our Overview Report will show you the big picture of performance of Upselling/ Cross-selling activites:
* Overall KPIs about: Revenue, Impression, Conversion Rate,...
* Overview Performance by time
* Revenue Ratio
* ...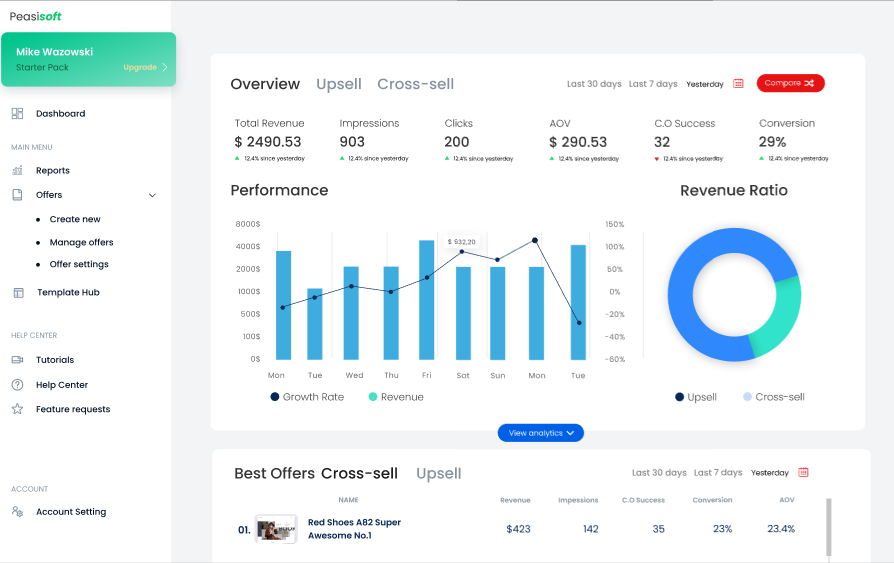 Report Overview
This report lets you know about what happened in your store:
* How much I gained? how many I expensed?: Revenue, Impression
* Did customers see my offers?: Impression
* This customers interest with my offers?: Click
* Did I serve the right need for my customers?: Conversion Rate
* How progress of my offers performance by time?: Performance Report
Performance report for example, when you look at this chart, you can quickly know about the time you have a problem and need to be optimized (the lowest point), as well as times your offer works very well (the highest point). It also shows you the trending of performance in your app, and you may predict what can come next.
After know where is the point you need to dig into, we will come with further step: "How many, how often, where". At this step, you have to combine the date filter and metrics at the top of the Dashboard; these metrics will describe the result you got follow Customer Journey on your store:
Impression → Click → Checkout.

By following these metrics, you will quickly recognize what metric have a problem (it's often so low).
You can also see the Revenue Ratio to understand what offer type is the best and what kind need to improve.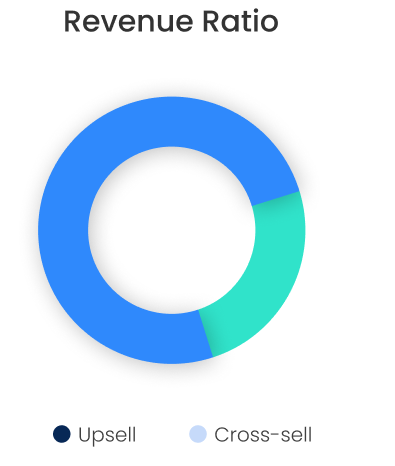 After understanding where the problem comes from, we have to determine what things are work well and what aren't. In this scenario, we move to the next step: "What exactly is the problem?"
For example, we will assume the metric that you need to improve is Click of Upsell Offers because it's alarmingly low. It leads to the assumption that people maybe don't like some of your upsell offers. So, you have to detect specifically one by one of your Upsell Offers. Use Manage offer feature to view detailed report.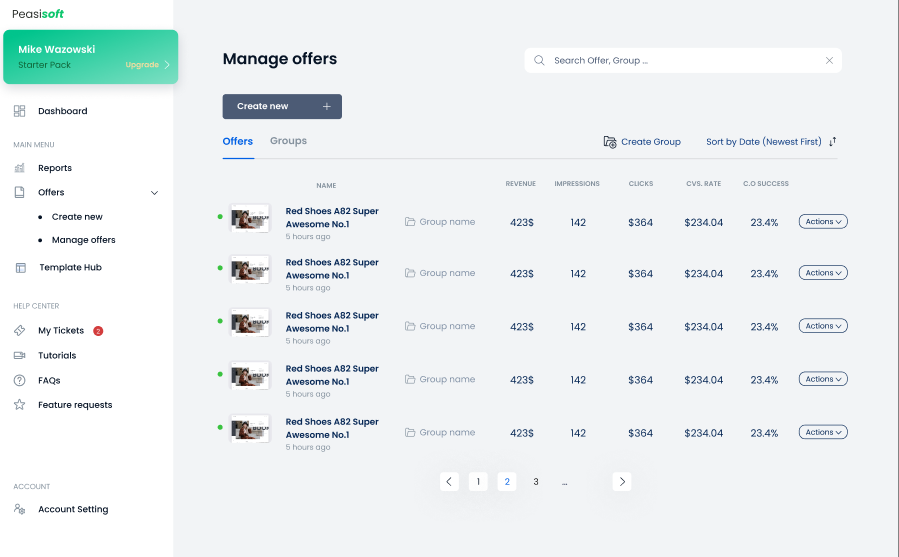 Manage Offers
With the filter, we can quickly find low-performance Upsell Offers, which have low click with high impression. These offers need to be optimized.